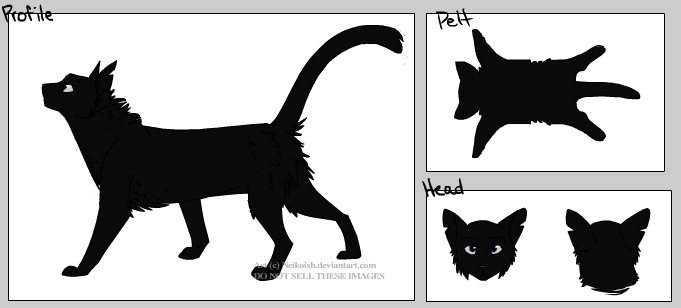 Personal InfoName:
Shadow
Alias:
Unreadable
Gender:
She-cat
Age:
24 Moons
Species:
Black Leopard
Personality(At least 1 Paragraph!(5-7 sentences)):
Shadow is exactly what she sounds like. Unreadable. She is cold and unforgiving at the best of times, and silent and stony at the worst. Getting on her bad side is not a mistake you would walk away from unscathed, and that's a relatively easy list to make. She's cold an ruthless, but she's not evil. She understands when to take action and when to leave it be, but she always silent and calculating. She cares greatly for her pride, and will protect them at all costs, giving her life gladly to protect another. Her trust is difficult to gain, as she is distrustful and not likely to give you more than one chance. She doesn't tolerate disobedience, and cracks down harshly on any sign of it. Underneath this shell, she cares for her pride and will do her duty as queen properly, or die trying.
Likes:
Silence, obedience, walks
Dislikes:
Disobedience, loud noises, crowds, public speaking, speaking
Fears:
She has a phobia of fire.
Appearence

Size:
3' 5'' at the shoulder
Eye color:
Brilliant blue
Fur color:
Pitch black
Objects/clothing:
Nothing
Appearance:
Shadow is fairly simple as far as looks go. She is small, thin, and wiry for her pride's usual standards, though she makes up for it with her attitude. Her eyes are brilliant blue, cutting through you harsher than any wind. There are two nicks, one each outer edge of her ear, from previous battles.
Pack/Pride Information

Pack/Pride:
ShadePride
Rank:
 Queen
Family:
Rogues
Mate:
N/A
Pups/Cubs:
N/A
Skills and Abilities

Strengths:
Shadow is thin and wiry, giving her an advantage in the stealth department, and makes her nearly invisible in the darkness. Her build gives her instant silence, and she can move in complete silence.
Weaknesses:
She's small and not extremely muscular, meaning that she's vulnerable when pinned down or in any situation that requires raw muscle.
Combat Style:
Stealth, stealth, and more stealth.
Background

History:
Shadow's parents were rogues, who-when they were unable to feed her-brought her to ShadePride in a last-ditch effort to save their kit. She was reluctantly taken in by them, where she was raised. In a later forest fire, her parent's bodies were found, giving her the cold demeanor she has now, and her fear of fire. She has worked hard to claw her way to the top and earn respect after being born to rogues. She still hates it when her heritage is brought up as an insult.
RP Sample:
Shadow's eyes narrowed, and she stalked forward. the cat in front of her laughed. "This is the mighty Shadepride leader?" A cruel grin crossed his snaggle-toothed face. "I eat kittens like you for breakfast." He hissed. "Now where's the real leader?"
Cold blue eyes narrowed. "You're looking at her." She said, with enough iciness in her voice to freeze the river by their territory.
The cat laughed derisively again. "Don't make me..." He trailed off as the black cat disappeared. She was suddenly gone. He whipped around, growling.
A second later, a shape dropped from the tree branch above him, flattening him, and sinking all four paws into his fur, claws unsheathed, teeth burried in his ruff. He shrieked, bucking crazily, before slumping when she bit harder. "Still want to call me a kitten?" She hissed.
You may know me as Shine elsewhere.

Oh, and can I get a name change to Shadow? I typoed when I entered my name. XD